By MIKE JACKSON
TURNERS FALLS – It may seem backward for an artist to move to Los Angeles at the point of their career when they decide to not be famous, but that seems to be the path Luke Csehak has taken.
Eight years ago he was the songwriter-singer-guitarist at the nucleus of the Happy Jawbone Family Band, a Brattleboro collective that played earnest, chaotic, jangling pop songs always on the verge of falling apart. Happy Jawbone's charms were on the cusp of receiving a mass audience, thanks to a proper record-and-marketing deal, when the band itself suddenly fell apart in an irreversible, cable-rock-documentary sort of manner.
Csehak swore – so went local legend – never to play those songs again, hitting the reset button as The Lentils, a project more deliberately focused on his solo work. After releasing a debut, Brattleboro Is Flooding, that captured the apocalyptic feeling of a small-city music scene dealing with deaths, breakups, and natural disaster, Csehak headed west.
All that is ancient history, and this Friday marks the release of the sixth (or so) Lentils LP, Budget Alchemy, on two Greenfield-based labels: Feeding Tube for the vinyl, and Flower Sounds with a small-batch cassette.
The album is intricately multi-tracked, a slew of instruments swirling and pulsing, shrouding what may be Csehak's strongest batch of songs yet in an uneasy, wistful ambiance. "How come all these gorgeous oceans are churning in my mind?" he sings. "The problem with memory is it can never be touched…"
I caught up with Csehak by phone a couple weeks back after getting an advance listen to the tracks – the weird kind of deal journalists make about music. We had a good long talk, and the transcript has been substantially reordered and edited for clarity.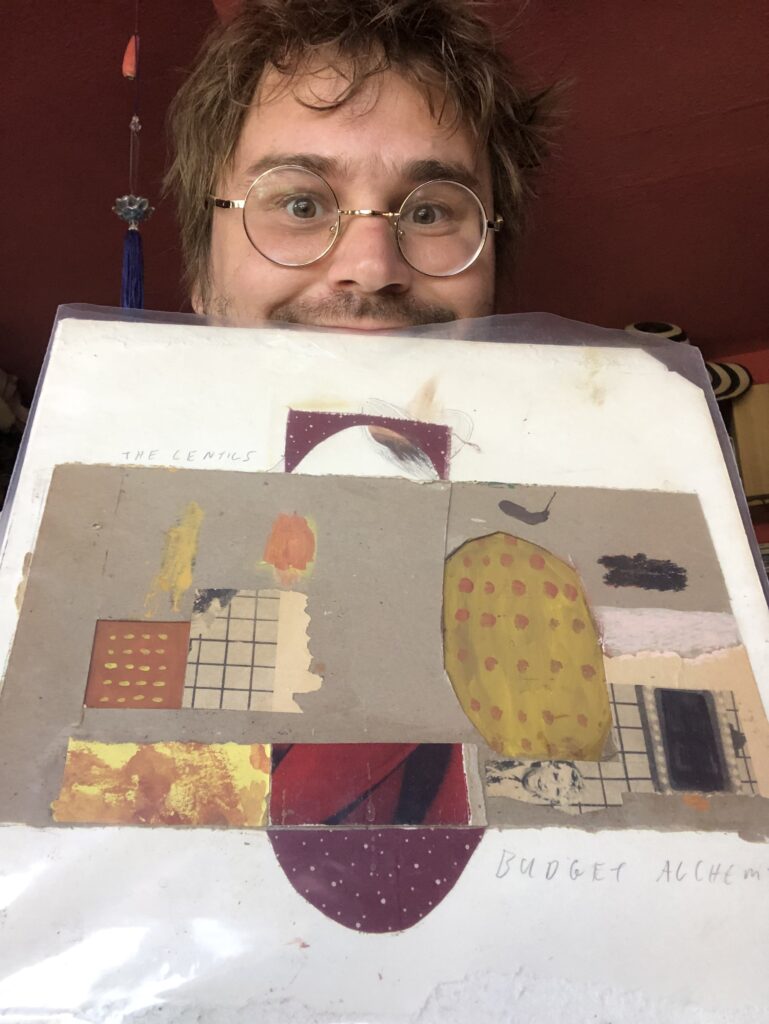 MR: Every time I turn a recorder on, I say this, but if there's anything that is off the record, let me know.
LC: Okay, I will let you know. I do like going off the record, just as like a formality. I usually don't actually mean it. I don't see myself going off the record too much – my heart's an open book.
MR: How is it out there? Are you in Los Angeles? Have you been there longer than you were in Brattleboro?
LC: Almost. I was in Brattleboro eight years, so it's coming up…. I've been here for almost seven years now. That will mark something.
MR: I think I was probably at four of the first five shows that were billed as The Lentils, and it was cool to watch what the Lentils sound was kind of cohere. This new record – is this the "big step" record for you?
LC: In a way – it's sort of the conclusion of processes that I began when I first moved here. They're songs that I wrote all throughout my time here; it's not all new. One of them actually is from Brattleboro, it just didn't make an album. Not because it's not good – I'd say that these songs didn't make it onto albums because they were too good for the other albums, they just didn't fit. I realized they all fit together and made a nice little family, so I finally got around to finishing up that family.
MR: What is the scene out there for you? Do you have a day job?
LC: Yeah! I finally got out of the restaurant biz, and now I'm working as a therapist. I went through my masters, I've been out of school for like a year and been working in private practice under a licensed therapist, and hopefully I'll be licensed next year.
MR: Is that the third school for you or the second? You went to Naropa, right?
LC: Yeah, I went to Naropa for undergrad, I studied at the Jack Kerouac School of Disembodied Poetics, and I thought I would never go back to school. But then I met some people who were doing the the music and therapist thing together. Mostly this guy Jonny Kosmo – he's an LA guy, sort of a real scene-maker but not in that type of way, he's just a really good friend who gets all of his friends together to do cool things.
MR: An organizer of people.
LC: Yeah, and he's a therapist…. It dovetails really well with an artistic practice. I feel like a lot of what I was doing musically was preparing me for therapy.
What I'm going for in music is not really [being] the most innovative musician, that's not really interesting to me. I'm all about exploring the human condition, figuring out what the hell are we doing on this earth in these weird flesh suits? And why do we have all these feelings, what are they good for? What is their nature?
So I've been investigating that through music, and then figured out that it's given me some pretty cool skills for talking about that with other people who are having a lot of trouble figuring that out.
MR: What were you doing in Vermont?
LC: Um. I was exploring the nature of human connection.
MR: You guys were from Connecticut, am I remembering that right?
LC: Yeah, I grew up in Connecticut, but let's keep that off the record.
That's one of the times where you can keep that on the record. As long as that doesn't get you in trouble with other journalists…
MR: Were you in bands before Happy Jawbone?
LC: No, not really. You couldn't call them bands, more just like improvisation crews.
MR: When you talk to people in Los Angeles about what was up with Brattleboro during the time that you lived there, how do you try to explain it?
LC: I always say it was a really special place for a few years, where you'd just walk out your door and hang out with the best songwriters working, and just riff, and maybe go to a swim spot and skinny dip with them. It's pretty cool to just be in the bosom of a group of people who are really working on something and really inspiring each other, and working off of each other.
MR: And some of the best producers, too.
LC: Yeah. But they're all insane, so it's not a big surprise that it didn't last very long.
MR: We were downstream from Brattleboro in Turners, but there was obviously so much heavy stuff going on in that scene during those years.
LC: I see Brattleboro as sort of the north pole of the Western Mass world. There was a lot of shit happening, really parallel, in the different scenes where a lot of shit was coming to the surface.
MR: Do you like any of the Happy Jawbone records?
LC: Oh yeah. The Silk Pistol I think is a really solid album. The Christmas album is also pretty good. It's hard for me to judge that one, because we had a lot of fun making it, so it's very nostalgic for me.
MR: When I'm showing that band to someone I usually go with Okay, Midnight.
LC: Yeah, see, people love that. I don't get it. I think I was trying to do this like punk cosplay thing. I was never really a punk, I just thought it was fun to pretend… It was like that "mer-punk" thing where it's trying to not actually make punk music, but I was putting a lot of pressure on myself to connect with people.
Sometimes I miss singing like that style, where you're singing very loud, straining your vocal cords and it resonates in your body in a specific way that feels pseudo-orgasmic. But that's a big trust fall to lay on an audience. And it was like maybe 10% of the shows people were able and willing to take that trust fall and it was magic, but the vast majority of the shows people were like, who the fuck this guy, why is he trying so hard?
Now I much prefer this quieter music that I make, more low-pressure music. You can come to me, if you like.
MR: You know, I didn't like that band the first time I saw you. And I think that might have made me like it more in the long run.
LC: I'd love to hear what you hated about that band!
MR: I barely remember. It was at Flywheel and I was there to see another band, and you guys were in the way, and there was a toy piano…
LC: The toy piano! It was pink, too – a very twee move, and people really had a hard time with that. But it did actually sound pretty cool….
I do miss get getting panned. That was a fun thing about Happy Jawbone is that people would really pan it. Now that I've self-sabotaged so much nobody bothers to write about my band anymore — that means nobody pans it. There's this beautiful ego destruction that happens when you read someone just totally shit on your baby that I sort of miss.
MR: Would the band read them out together?
LC: Yeah! We'd process it, and laugh and have a really good time. When someone pans an album, that's such a narcissistic act for the writer, the critic. "I denounce this in the name of my taste – there is an objective taste, and this album misses the mark."
The ones that hurt more were the ones that were accurate – like "it's not horrible, but it's just not that special."
MR: Sitting here it kind of looks like you've been part of an exodus of musicians from Brattleboro to Los Angeles. Does that feel true, on the other end?
LC: Yeah, there's still a handful of people from Brattleboro that I still see around. Some of them are still close friends…. But I do end up gravitating towards other people from New England. It's a funny thing where people from New England in LA sort of find each other. People call it "East Coast retirement."
MR: Do you go swimming and surfing and things like that?
LC: Yeah, I still haven't done the surfing thing. I plan to. I'm doing T'ai Chi, though, and I feel like that's a good preparation for learning how to surf…. I've got this class that meets outdoors in the park and it's great. I love T'ai Chi, it's been a real lifesaver during the quarantine.
MR: So is this the fifth main Lentils record?
LC: I feel like there's more. I was trying to count them up the other day and it's hard because there's the live album, there's the Pillow Lava things – do you count that as one album or three, or two? I sort of count that as one double album.
MR: Those tapes were the first time I'd heard you getting deeper instrumental stuff going.
LC: I've been doing that all along, but just sort of keeping it secreted away in this Pillow Lava project. A lot of that stuff is from Happy Jawbone days, but it was too weird for Happy Jawbone, and I continued making that stuff and finally put it all together for the Pillow Lava series.
MR:There were kids from the Putney School playing on one of these, also? How did that come about?
LC: My friend Julia Tadlock was putting on a play at the Putney School – Eurydice – and she asked me to write some music and score it for the kids there. So I wrote some incidental music for wind quartet, and they played it while the play was going. It's all on the Bandcamp.
Count that as one – Brattleboro is Flooding was the first one, so that's two, and then Botanical Castings, three, 11 New Flavors…, four, and Ixnay is five so this will be six.
MR: Is your approach to being able to put albums together now different from, or to any extent a reaction to, how that process went in Happy Jawbone?
LC: No, I feel like I was doing that in Happy Jawbone, I just have gotten better at it. Like, with The Silk Pistol I feel like we really hit that – that album has a real nice album form to it that's pretty similar to what I do with the Lentils now.
That was the second-to-last one, before the last one, which was an interesting failure, the self-titled Happy Jawbone album….
I don't really love recording in studios. Recording with people who know how to record is sort of frustrating for me – I don't know, I just have a different ear than most people, I want things to sound a particular way, and it's almost impossible for me to convey that to an engineer or producer…
I've recorded with pro people; I recorded with Justin Pizzoferrato for the last Happy Jawbone album on Mexican Summer. And they're all like really good at what they did, but it doesn't it doesn't sound like what I wanted it to sound like.
But you know, people like those albums. That's good. I just don't really care for them myself. Because I have this idea about what those songs sound like, and it sort of sounds like a Shelbyville version what I think the songs are.
MR: Who plays the music that we hear on this new one?
LC: I think it's the only album that is 100% all me. The last one only had a couple of people here and there. The songs are just sort of that style – it's more like writing, it's not really collaborative; it's like an interior project, where I'm just like alone in my room, exploring my mind…
MR: You said that one of the songs was from before you went to California – did you mean written, or are some of these older recordings as well?
LC: The one that's old is "Dark Days," which was going to go on Brattleboro Is Flooding, actually, but it just didn't fit.
MR: This new album does sound like a lot more work went into it.
LC: It's a pretty painstaking process for me to make an album like that. I mean, I did it over seven years, I'd just check in with it every now and again: oh, does this new song fit in it? How can I change it to make it fit, or do I bother? Sort of putting the pieces together.
Making these albums is sort of a collage process, figuring out what pieces get along together, sort of like making a family.
MR: So this is stuff you've been working on by yourself, and for seven years – the classic "masterwork that the bedroom auteur has been crafting…"
LC: This is very much a maximum bedroom auteur album, sort of the pinnacle of that trajectory for me. I'm happy to be making some other collaborative albums, which hopefully will come out soon. We'll see. It's tricky getting people to put out your music, especially when you self-sabotage its sale as much as I do.
MR: Why do you do that?
LC: Well, I think I just don't like the pressure of having to think about marketing the music. I feel like that really puts a pressure on what is a very fragile and delicate process. Some people are able to do it, I just have a real hard time if there's any pressure on it, it really makes it come out weird and I don't like it. So I've sort of made myself unsaleable so that I can go deeper.
But I'm trying to get out of that, actually.
Now that I have this other career as a therapist, I don't have to worry about making money in music at all, so that pressure's sort of gone, and I can think about like trying to share the music with the wider world without the pressure of having to make it a career….
Honestly, like, I'm not like a huge fan of music, really. I'll listen to the stuff, but even making it, it feels good, but it's sort of a mystery why I even do it. People ask me, you're a musician? And I always sort of cringe when I have to answer yes….
I don't know what I think about music, and I don't really care to find out. I guess it's a way of exploring human connection and that's what it's good for, but all the ideas and identity that go along with being a musician I find somatically repulsive – there's a tightening in my gut and my throat, like a dizzy feeling when it comes up.
MR: Is there a live band version of The Lentils right now?
LC: I'm trying out a new thing for the record release show, which will be just a saxophone quartet, with me singing on top…. Hopefully we do okay. I think we're only going to be able to practice right before the show. But it's all music that's written out now, in a score, and they're all pro sax players so it should work out okay.
MR: Do you notate stuff out when you when you're enlisting a band to play stuff?
LC: Yeah, I really like writing it out by hand, I have my manuscript paper and I figure it out. There are some songs where people come up with their own stuff.
And then actually, the next album – which is finished, and we're trying to find a home for it, it's called Hello Jane Goodall, Are You Listening? – is with a 10-piece setup. We recorded that in the studio, but the way that we play it live.
MR: I fell down a little rabbit hole because of some of those extra lyrics on the Bandcamp page.
LC: I like to do that – a little Easter egg. Because I like to write, but the process of getting people to read your writing is even more arduous and demeaning and dehumanizing than getting people to listen to your music, so I never actually do that. So I've found a fun way to get around that is to just put the writing that's associated with the song in the "lyrics," after the song lyrics.
It sort of happened by accident, actually – in the last album, Ixnay on the Entilslay, I'd just copied and pasted the lyrics from my notes, and it had all the extra lyrics and writing that had spawned the lyrics. I was like "oh, I might as well just keep it – who the hell reads lyrics anyways?"
MR: Do you have strangers who listen to your music?
LC: Yeah, there are people that I don't know the listen to my music which confounds me… Randomly people hit me up. Somebody asked me to go to Florida last week and I was like, no. Absolutely not. Let's see if I can tour to the Bay Area one day. It's hard for me to even play a show outside of Northeast LA!
MR: Who should folks check out in LA right now? There's no real use in sending you out as a scout if we're not gonna be getting the inside dirt…
LC: There's the heavy hitters like Mega Bog, Chris Cohen, Dear Nora, but the more obscure stuff… hmmm. Jonny Kosmo is a master of the smooth sound, Nehemiah St. Danger, Ben Varian, and the lowered are also doing great work in that strange funk world and no one knows about them.
Erika Bell is someone else no one knows about, which is a crime. Song structures produced to a level of deconstruction that I've never heard before. Then there's bands like Dovestone, Banny Grove, Lina Tullgren, and Belly Belt who are making truly uncategorizable music. There's some real freak stuff goes down over here.
MR: Have you been back to Vermont?
LC: Yeah, I've come back a couple times. Last time I came it was great, it was right when it was like sort of too cold to swim, but you could do it. We went down to Botanical Castings and jumped into the ice cold water and it was really nice. There's that magical time in early spring when everyone gets out of their introvert cages.
MR: Well, I always wonder whether the New Englanders in California are gonna move back when you all run out of water down there.
LC: Yeah, that is something that I keep in mind. It's not really sustainable living out here. Real estate is insane. The water…. Somehow it stays afloat, so it will probably stay afloat for a while more, but yeah, I don't see really like settling down here.